RAKTA receives 3 ISO certificates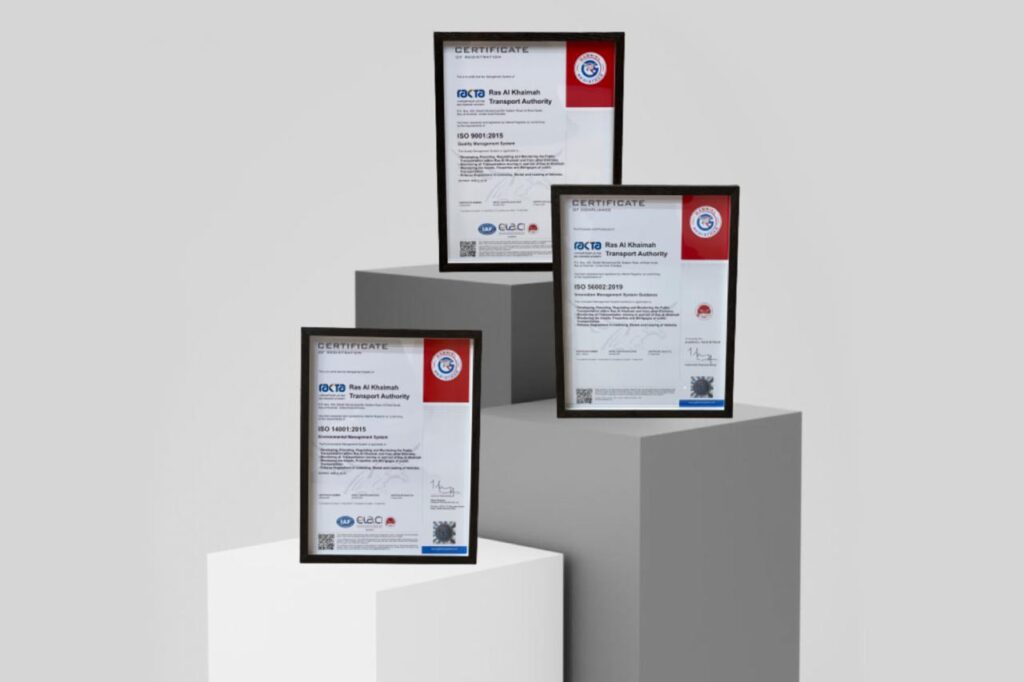 Ras Al Khaimah Transport Authority (RAKTA) has obtained three certificates as part of the global conformity to ISO specifications in the Quality Management System 9001: 2015, the Innovation Management System 56002: 2019, and the Environmental Management System 14001: 2015. As this achievement comes within the directions of the authority to complete its efforts and focus on the efficiency of administrative systems in order to serve the achievement of the strategic objectives of RAKTA.
This achievement reflects RAKTA's keenness to apply the highest international quality standards in all its various work fields, where the concerned certification company showed its admiration for the administrative system and the elaborate work procedures followed in RAKTA.
H.E Eng. Esmaeel Hasan Al Blooshi – General Manager of RAKTA, expressed his happiness for obtaining these international certificates that enhance the efficiency of the administrative system and raise the outputs effectiveness, and that the authority is committed to implementing and adopting the quality management system, which is based on a number of basic axes: Leadership, Planning, Support, Operations, Measurement, and Improvement. As this system meets the needs and expectations of customers, and defines the general policy and quality objectives within the authority, and defines the processes and administrative procedures.
H.E added that RAKTA places innovation and the environment among its priorities in adopting best practices and global standards, and that achieving these certificates confirms the authority's success in managing innovative processes and managing environmental processes in an elaborate manner that achieves the objectives of RAKTA.
RAKTA obtains the international standards certificate ISO 9001: 2015 in the quality management system. This achievement comes as a culmination of the efforts made by the authority in developing the administrative system, which includes the institutional processes and procedures in accordance with the standard requirements. As this commitment is to adopt the general principles of the quality management system, which are positively reflected in serving the aspirations and needs of stakeholders, including customers, employees and partners. Moreover, RAKTA sought to provide a system to measure the effectiveness and efficiency of all processes in the quality system and to adopt methods that prevent any inconsistencies in its systems.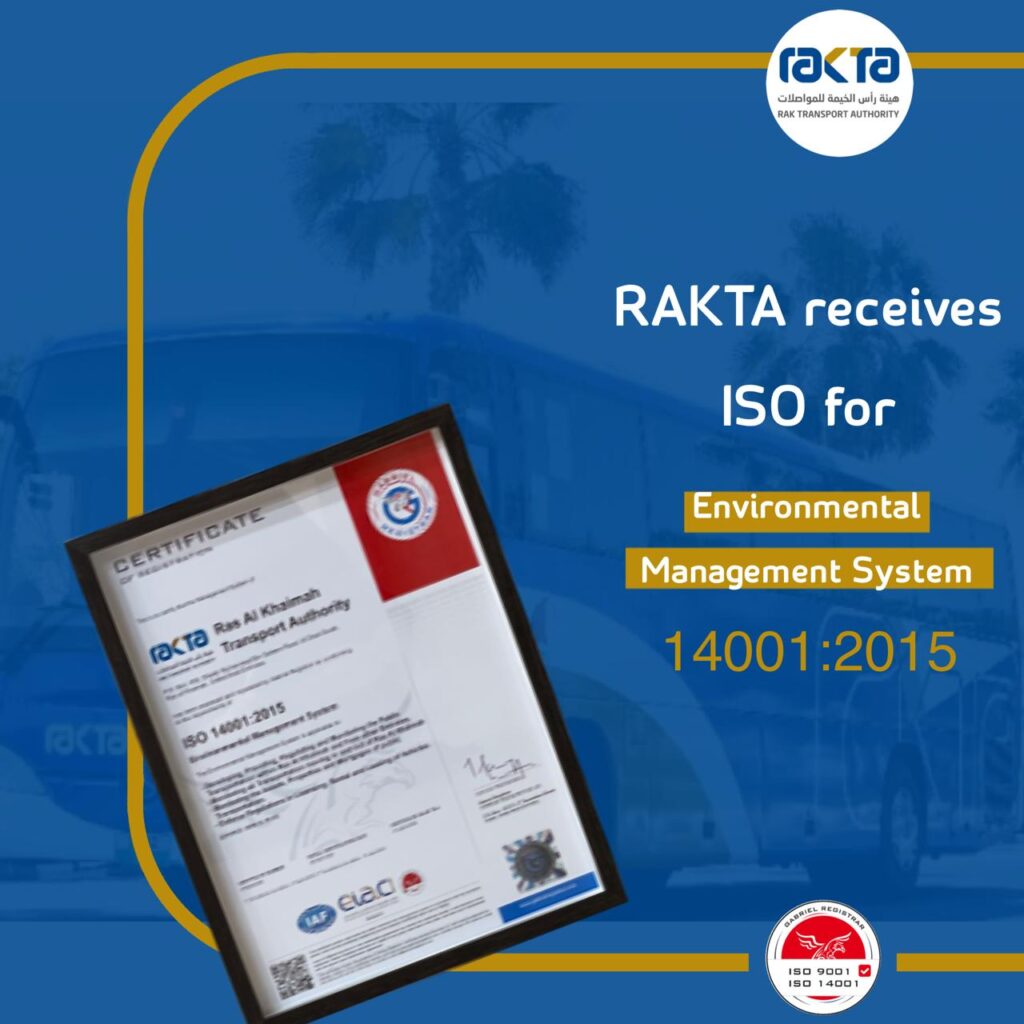 RAKTA achieved the international standard ISO 14001: 2015 certification in the field of environmental management, which came as a culmination of the authority's distinguished efforts in achieving environmental sustainability and serving its fourth strategic goal "sustainability", with the aim of providing the highest levels of quality in managing environmental systems.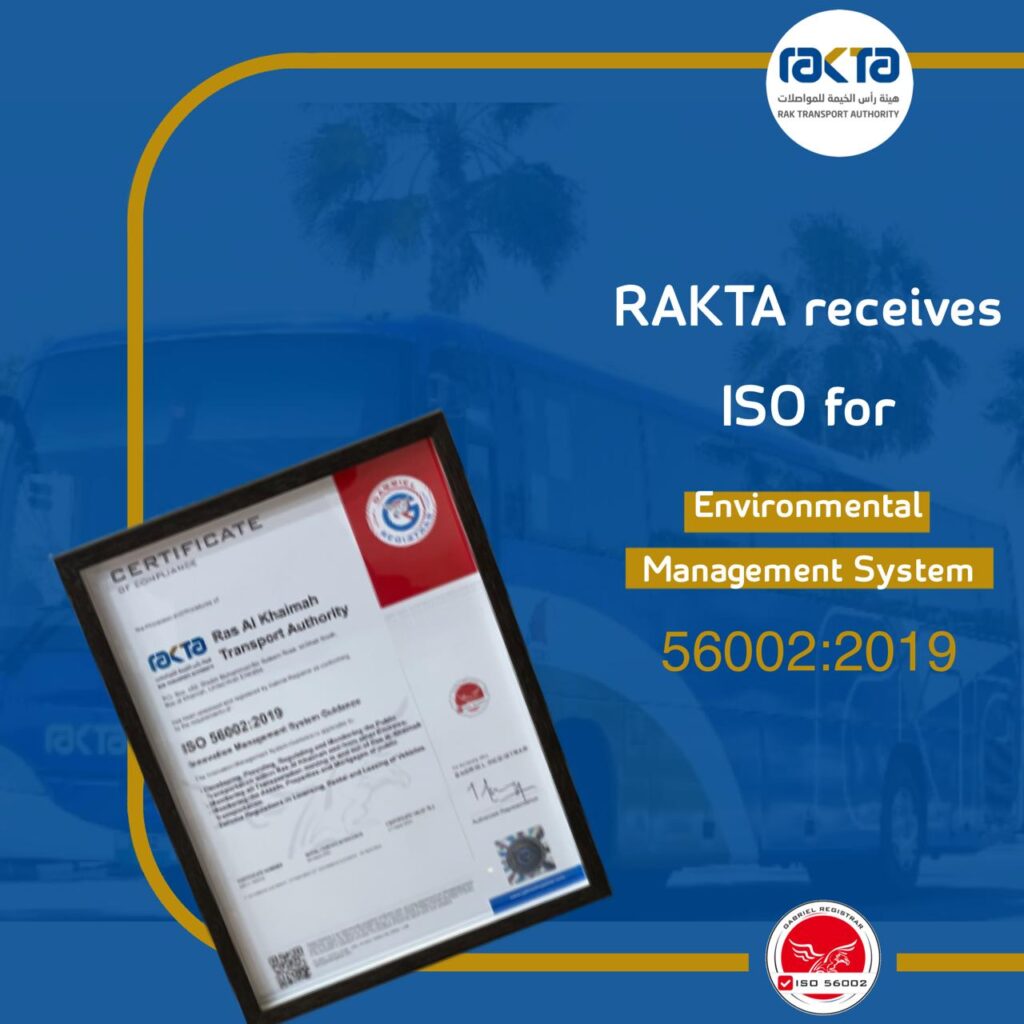 RAKTA obtained the ISO certificate in the field of innovation management 56002: 2019 as a result of applying all the standards and requirements of the specification by providing an integrated institutional innovation system in the authority and adopting a number of practices to enhance the maturity of innovation and achieve excellence and provide an attractive environment for innovation In a way that contributes to the development and improvement of the services provided in accordance with the latest international quality and excellence systems.